Today is my stop at the blog tour for The Syndicate by Guy Bolton.
Before ever getting the chance to read The Syndicate I've seen it mostly on Twitter and found the cover to be intriguing as well as the 1940's noir feel to it something I knew I'd enjoy – and I did enjoy reading it.
The Syndicate by Guy Bolton begins with a bang – a mobster called Bugsy Siegel comes home and has drinks with two friends but after a while something shocking happens, he gets shot in his home with two witnesses who know nothing about why he was killed and who would've killed him. Enter Jonathan Craine a now retired fixer who dealt with many scandals and deals featuring Hollywood movie stars. Craine now lives on a farm with his son and has distanced himself from his previous life but the murder of Siegel brings trouble his way. Craine and his son get visited by a few people who want Craine to investigate the murder but as Craine politely refuses his son becomes imprisoned by them. In order to save his son he has to cooperate with them and find out who killed Bugsy Siegel. As Craine begins the search for Siegel's killer he enters a dangerous world where everyone could be a suspect and in order to find out who killed the infamous mobster and save his son he will have to do what he does best with limited time and limited access to news reports, crime documents etc. Will Craine be able to save his son and find Siegel's murderer?
I found The Syndicate to be such a fantastic, fast-paced and thrilling book because right from the start you get action and it intrigues you and makes you want to read on and find out who killed Siegel and will Craine be able to find it out. Bolton writes superbly and I loved that he featured Old Hollywood stars like Ava Gardner, Judy Garland and more in the background of the book. You won't find a dull moment in the book because the mystery keeps you pulled in. I loved how flawed Craine was and how we saw his vulnerabilites but more than that I loved that Bolton featured a woman as part of the story, Tilda Conroy as well as another woman of colour. Bolton mentions issues which were big at that time like colourism where only white people were allowed into bars and restaurants and sexism. I appreciated this and it gave points to Bolton in my mind. Whenever I read this book I read huge chunks of it which only happens when a book manages to keep you entertained. I liked the ending of the book and I when I finished the book I was left with a melancholic feeling because I had such a great time reading it.
If you're someone who enjoys reading about mysterious deaths, who likes noir and getting lost in thrilling books, The Syndicate is the one for you.
I would like to thank the publisher Point Blank Books for providing me with a copy of this book in exchange for an honest review. All opinions expressed in this review are my own and weren't influenced by anything.
The Syndicate was released by Oneworld Publications (Point Blank Books) on 4th October 2018. Hardback £16.99
My rating: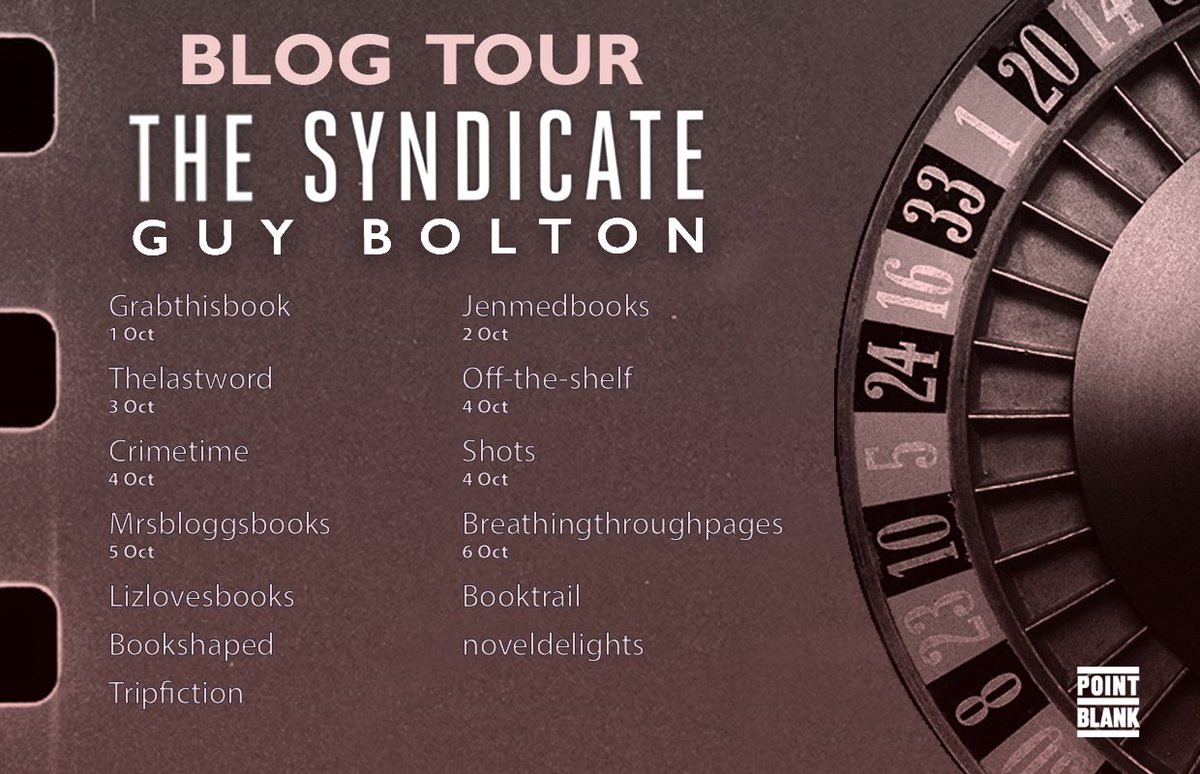 Add 'The Syndicate' to your TBR:  
*Purchase 'The Syndicate' here:
*Purchase 'The Syndicate' with free international delivery here: 
**I am in no way compensated by these sites. I am simply sharing it so people can find this book easier.
Guy Bolton is an author and screenwriter based in London. After graduating with a 1st in Film & Literature from Warwick University, he worked in music video, publishing and film before joining the BBC. After ten years working in television drama, Guy now writes full time.

ITV Studios, Tiger Aspect and Hat Trick are among the production companies who have optioned Guy's work. He has also written feature film scripts for Bedlam Productions and Signature Pictures. He currently has a feature film in development with the BFI.

Guy's first novel The Pictures, a detective thriller set in 1930s Hollywood, was shortlisted for a CWA Dagger award. It was listed as one of the top 10 crime books of 2017 by the Telegraph, The Times and the Mail on Sunday.

Guy's second novel, The Syndicate, will be released in October 2018.